Pediatric Research Alliance
New Website for Atlanta's premier pediatric research alliance.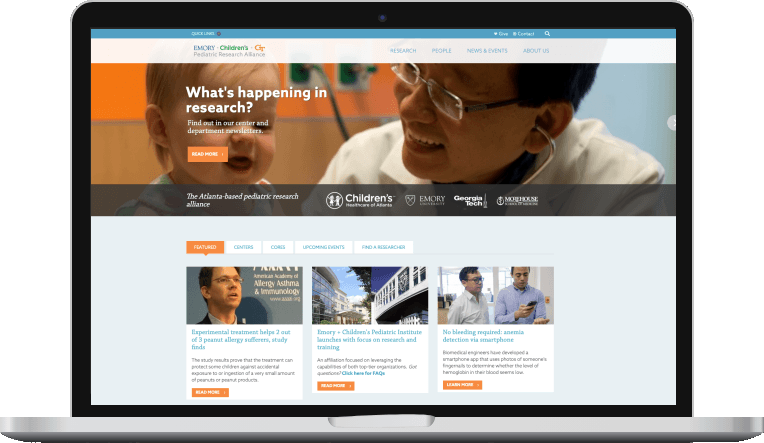 Background
The Atlanta Pediatric Research Alliance (PEDs) is an academic research and health consortium consisting of Emory University, Georgia Tech University, Morehouse School of Medicine, and Children's Healthcare of Atlanta, a private non-profit hospital. Beginning in 2010 we took over maintenance of their large, rather unruly ExpressionEngine website. The site was disorganized and their CMS was complicated and difficult for staff to use. In 2017 we were hired to completely redesign and overhaul the PEDs website.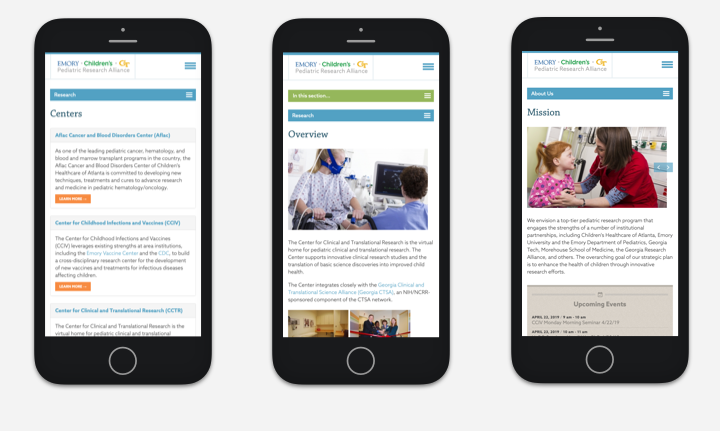 The Problem
The PEDs site was very large and they had four diverse member organizations relying on the website for information gathering, document sharing and research collaboration. The current site contained massive amounts of information but it was poorly organized and hidden behind layers of navigation. The site's functionality was overly complex and difficult for partners to take advantage of. Gradually the site became stagnant and was rarely used by any of the four member organizations.
Our Approach
After meeting with all four PEDs constituency groups to plan and discuss their goals and priorities for the site, we set out to completely redesign and re-engineer the site. The result is a slick and interactive new site that has become a "go to" clearinghouse for information and collaboration within the member organizations and among the pediatric research world at large.
Visit Site
Features
Events Calendar
Faculty & Staff Directory
Dedicated Lab Pages
Secured Staff Portal
"Find a Researcher" Search Function
Blogs
Job Board
Praise
Our site was a mess!

Jim and his team came in and walked us through the process of completely rethinking our site. Now we have a very logical, clean and well-utilized site that is the 'go to' place to find out anything and everything about our research alliance. This was super important since our enterprise covers several institutions, academia (Emory and GeorgiaTech) and a private non-profit hospital (Children's Healthcare of Atlanta). Barbara W. Kilbourne, RN, MPH, Manager, Business Operations, Atlanta Pediatric Research Alliance
Some Of Our Clients
Acton Memorial Library
Andover Newton Theological School
Atlanta Pediatric Research Alliance
Backyard Farms
Boston Athenæum
Beacon Consulting Group, Inc
Boston Center for Jewish Culture
Boston College ITS
Boston College Physics
Boston History Collaborative
Children's Advocacy Center of Suffolk County
Colonial Society of Massachusetts
Consortium of Universities for the Advancement of Hydrologic Science
Concord Free Public Library
Diabetes Camping and Education Association
Eldredge Public Library
Emory University
Falmouth Public Library
Framingham Public Library
Gay & Lesbian Advocates & Defenders (GLAD)
Groton Public Library
Harvard Dental School of Medicine
Harvard Distance Education Program
Harvard Graduate School of Education
Harvard University Extension School
Harvard Summer School
Independent Curators International
Landmark College
Longyear Museum
Massachusetts Eye & Ear Infirmary
Massachusetts Historical Society
Northeast ALS Consortium
Public Library of Brookline
Sturgis Library
Tuck School of Business at Dartmouth College
Worcester Talking Book Library
Are we speaking your language?
If you think we sound like a good fit we'd love to hear from you. Drop us a line so we can learn more about your project.
Get in Touch