The college for students who learn differently..
New site for Landmark College helps their community connect...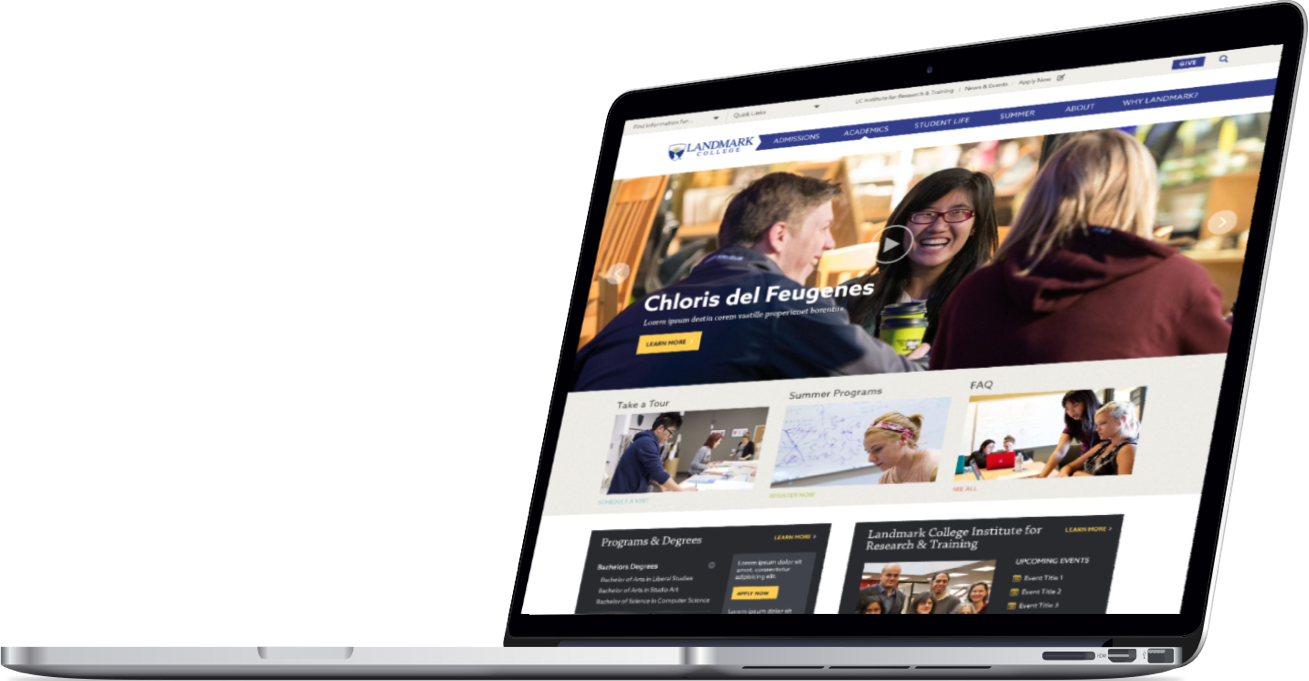 Background
We took over maintenance of the Landmark College ExpressionEngine website in 2012 as the agency that built their site did not offer ongoing maintenance. For five years we managed their site keeping it as up to date as possible and adding new features where needed. Their site, however, was aging and we wanted to make some structural changes to the site, modernize the design, and take advantage of some of the new features available in the newer version of ExpressionEngine. We were proud to be chosen as the agency to redesign the site.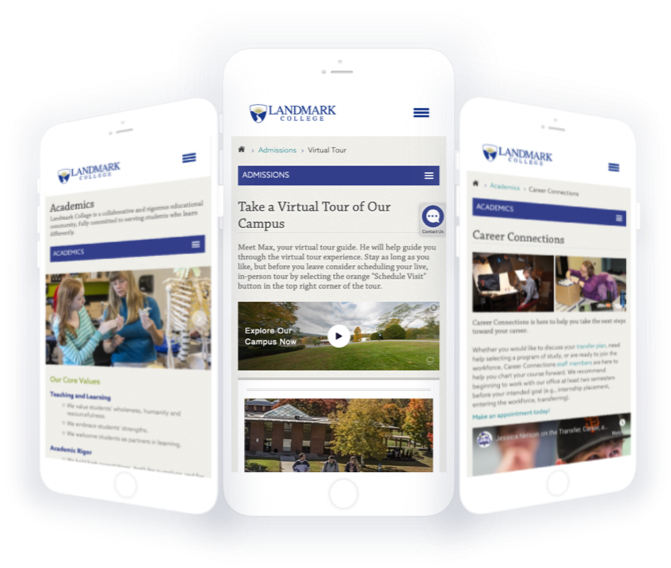 What We Did
We added many new features to the Landmark site as well as making it Section 508 compliant for the first time. The site is fully responsive and has a clean new design using an updated logo and color scheme. Of particular importance to Landmark was flattening the site hierarchy, reorganizing the navigational structure, and combining pages to reduce the amount of clicks required to access content.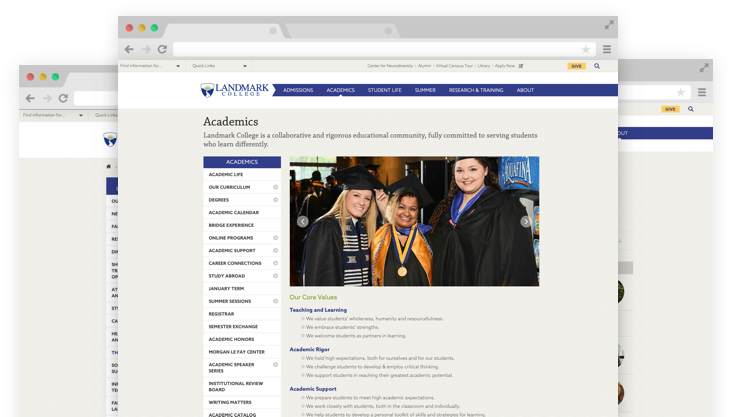 Results
The resulting site uses modular features that toggle content, reduce clicks and scrolling and allow users to find what they are looking for fast. The new site has new features such as an enhanced calendar and search function, blogs and faculty directory that help the Landmark community stay in touch and get the information they need quickly.
Visit Site
Features
Events Calendar with RSVP
Student & Faculty Blogs
Faculty & Staff Directory
Form Building Interface
News Listings
Job Board
Advanced Search
Praise
We couldn't be happier.

Clearpeak understood exactly what we needed for our site redesign. The new design is clean, accessible, and user-friendly. Clearpeak is easy to work with and quick to respond to questions and requests. We couldn't be happier. Madeline Bergstrom, Assistant Director of Marketing and Communications, Landmark College
Some Of Our Clients
Acton Memorial Library
Andover Newton Theological School
Atlanta Pediatric Research Alliance
Backyard Farms
Boston Athenæum
Beacon Consulting Group, Inc
Boston Center for Jewish Culture
Boston College ITS
Boston College Physics
Boston History Collaborative
Children's Advocacy Center of Suffolk County
Colonial Society of Massachusetts
Consortium of Universities for the Advancement of Hydrologic Science
Concord Free Public Library
Diabetes Camping and Education Association
Eldredge Public Library
Emory University
Falmouth Public Library
Framingham Public Library
Gay & Lesbian Advocates & Defenders (GLAD)
Groton Public Library
Harvard Dental School of Medicine
Harvard Distance Education Program
Harvard Graduate School of Education
Harvard University Extension School
Harvard Summer School
Independent Curators International
Landmark College
Longyear Museum
Massachusetts Eye & Ear Infirmary
Massachusetts Historical Society
Northeast ALS Consortium
Public Library of Brookline
Sturgis Library
Tuck School of Business at Dartmouth College
Worcester Talking Book Library
Are we speaking your language?
If you think we sound like a good fit we'd love to hear from you. Drop us a line so we can learn more about your project.
Get in Touch