at Massachusetts General Hospital
New site for the leader in ALS clinical trials research.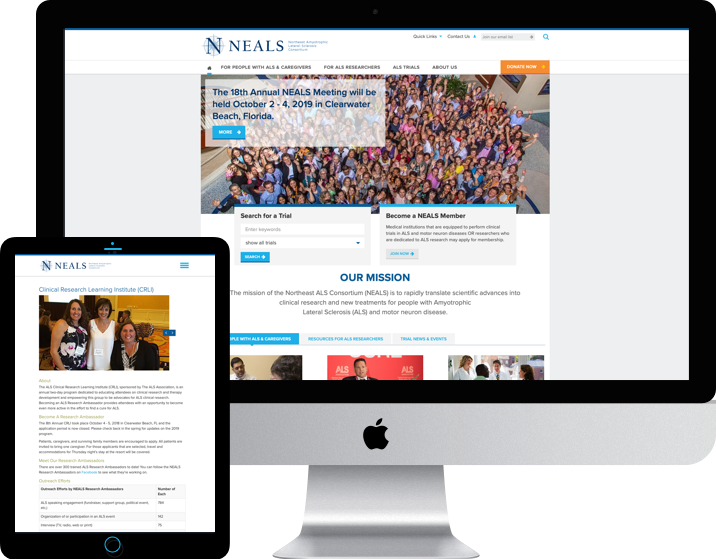 Background
With a mission like that of NEALS we knew the site had to more than just a pretty face. The main focus of the site would be the large clinical trials database that NEALS maintains and that scholars and physicians around the world rely on for their research on ALS. Our goal was to make these data as accessible as possible by creating a search function that was robust and easy-to-use. In addition the site contained a lot of information that needed to be organized into a logical and clear navigational scheme that would allow users to find what they were looking for fast.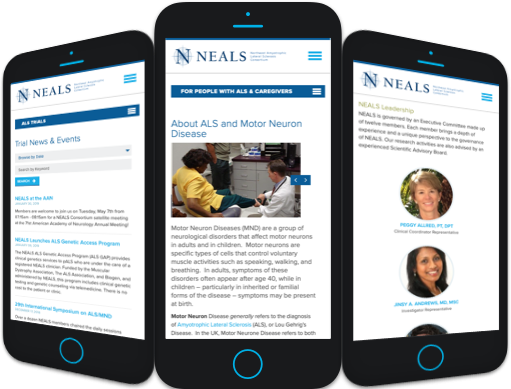 Our Approach
The design of the new clinical trials database had to be well organized and easy for NEALS staff to input entries. After creating the new database structure and inputting the data we built an intuitive and easy-to-use search function that allows users to narrow their search by a number of study and eligibility factors. In addition, we designed a clean, crisp responsive layout that is well organized and has many other useful features.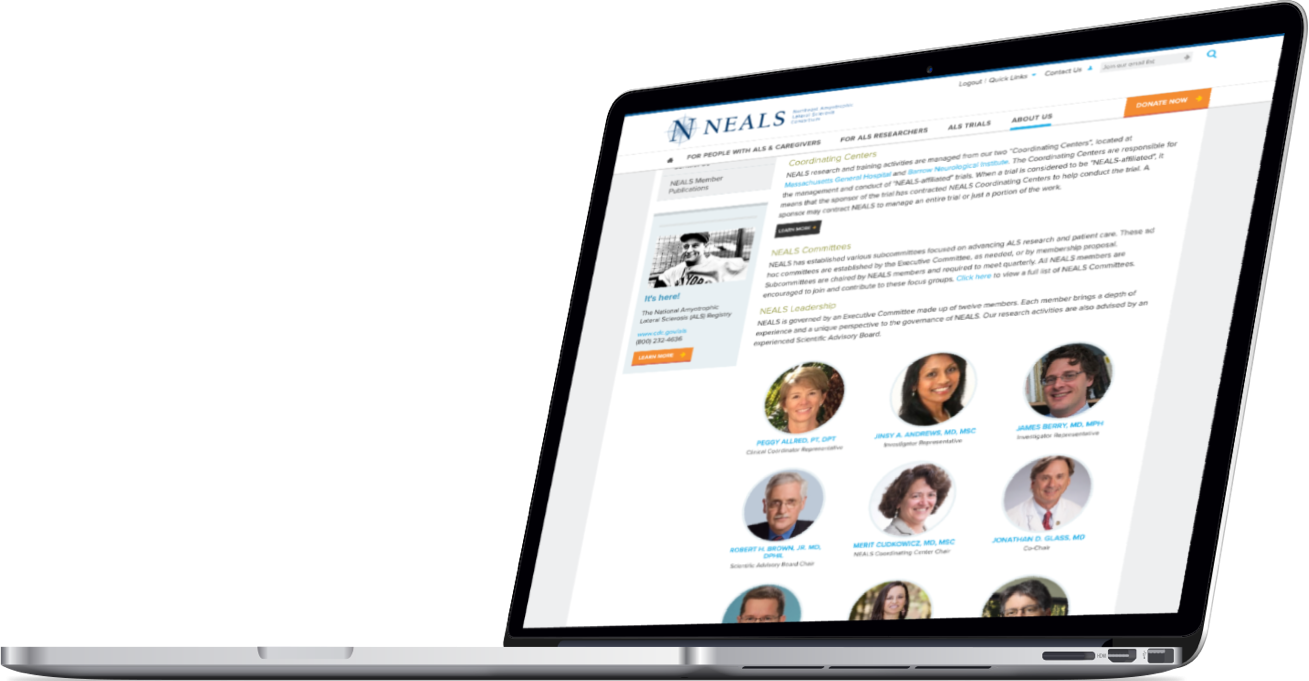 Results
Besides the new trials search function the site has a number of other exciting features that has helped NEALS better serve their over 100 hospitals, clinics and investigators around the world. In addition the site has become a clearinghouse for research information and resources related to ALS worldwide.
Visit Site
Features
Advanced Clinical Trials Search
Research Ambassadors "Outreach Tracker"
Secure Portal
Member Hospital Directory
ALS Specialist Search
PubMed Member Search
Praise
Our new website is so much faster and easier to work with.

The time it takes to update a page has been cut in half and we have so many more editing options at our fingertips. We've had a great experience working with the Clearpeak team and they've responded immediately to any requests we've had. Carly (Doyle) Allen, Communications Manager, The Northeast ALS Consortium (NEALS)
Some Of Our Clients
Acton Memorial Library
Andover Newton Theological School
Atlanta Pediatric Research Alliance
Backyard Farms
Boston Athenæum
Beacon Consulting Group, Inc
Boston Center for Jewish Culture
Boston College ITS
Boston College Physics
Boston History Collaborative
Children's Advocacy Center of Suffolk County
Colonial Society of Massachusetts
Consortium of Universities for the Advancement of Hydrologic Science
Concord Free Public Library
Diabetes Camping and Education Association
Eldredge Public Library
Emory University
Falmouth Public Library
Framingham Public Library
Gay & Lesbian Advocates & Defenders (GLAD)
Groton Public Library
Harvard Dental School of Medicine
Harvard Distance Education Program
Harvard Graduate School of Education
Harvard University Extension School
Harvard Summer School
Independent Curators International
Landmark College
Longyear Museum
Massachusetts Eye & Ear Infirmary
Massachusetts Historical Society
Northeast ALS Consortium
Public Library of Brookline
Sturgis Library
Tuck School of Business at Dartmouth College
Worcester Talking Book Library
Are we speaking your language?
If you think we sound like a good fit we'd love to hear from you. Drop us a line so we can learn more about your project.
Get in Touch