Serving the town of Westwood, MA
New site for the Westwood Public Library...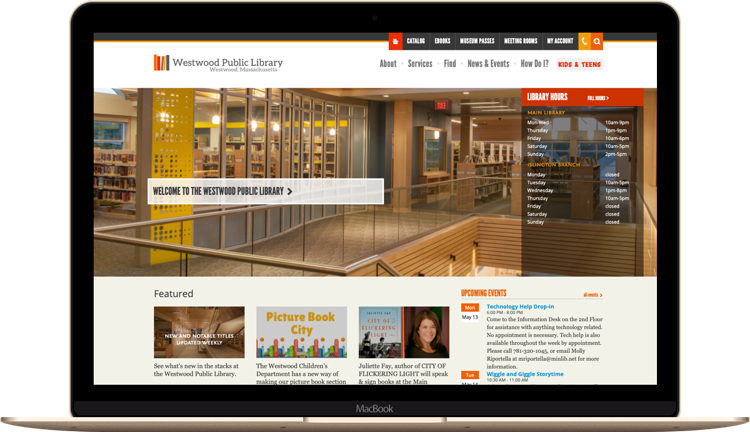 Background
Westwood needed a new website that was better organized, easier to navigate and optimized for mobile and tablet. They also wanted a CMS that allowed them to update their site anytime they wanted. They had just redesigned their library building and now they needed a new website to match.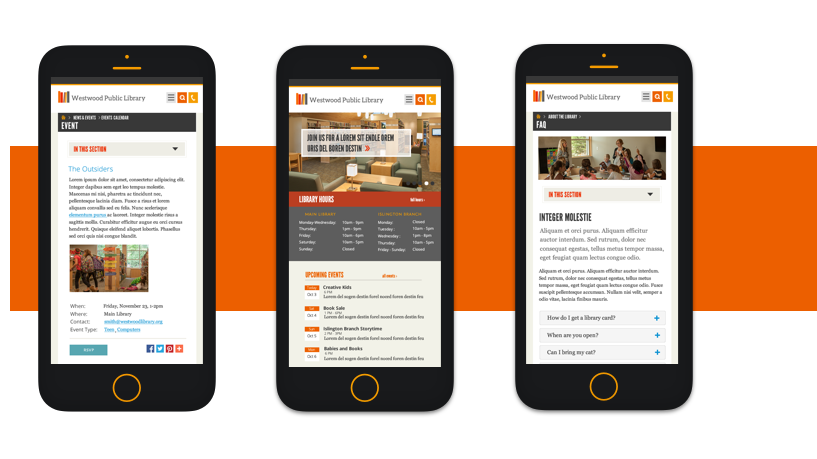 What We Did
The Westwood had just built a beautiful new building but their website was sorely out of date. We met with the newly-formed library comittee to discuss their goals and priorities for the site. Their site needed to be fully responsive and it needed an updated navigational scheme that was more intuitive. In addition they had hired a professional photographer to take some beautiful shots of the new building and they wanted to showcase these on the new website.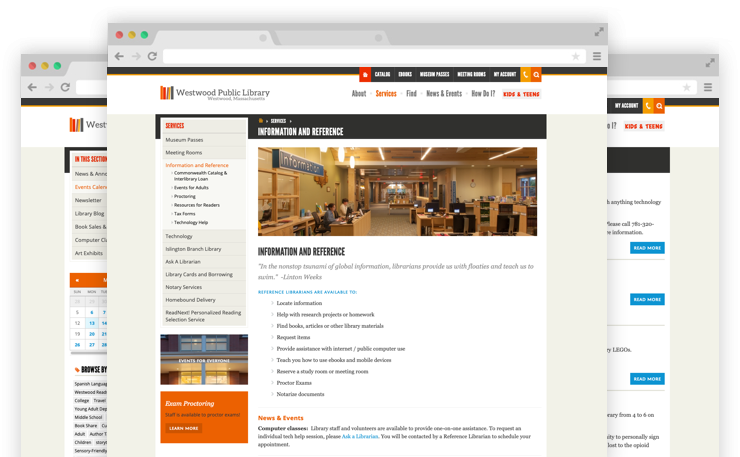 Results
To highlight all this beautiful new photography we built a rotating banner for all pages and a large photo carousel for the homepage. The library was not happy with their current calendar system so we built them a custom calendar with a number of features including RSVP. In addition the site has an auto-expiring emergency alert system that is great for holidays and closings. The site is built with ExpressionEngine so the site is easy and fun for the staff to update.
Visit Site
Features
Events Calendar with RSVP
Emergency Alert System
Library News
Kids & Teens Pages
ExpressionEngine CMS
Responsive Layout
Praise
Our sincere thanks to Jim and his team!

Working with Jim and his team from Clearpeak on the redesign of the Westwood Public Library's website has been a thoroughly enjoyable experience. Jim's technical expertise and understanding of public libraries were invaluable as we navigated new territory with the redesign of the library's website. Jim and his team are collaborative, responsive and knowledgeable, and their guidance and support enabled us to successfully launch our new Westwood Public Library website. Tricia Perry, Director, Westwood Public Library
Some Of Our Clients
Acton Memorial Library
Andover Newton Theological School
Atlanta Pediatric Research Alliance
Backyard Farms
Boston Athenæum
Beacon Consulting Group, Inc
Boston Center for Jewish Culture
Boston College ITS
Boston College Physics
Boston History Collaborative
Children's Advocacy Center of Suffolk County
Colonial Society of Massachusetts
Consortium of Universities for the Advancement of Hydrologic Science
Concord Free Public Library
Diabetes Camping and Education Association
Eldredge Public Library
Emory University
Falmouth Public Library
Framingham Public Library
Gay & Lesbian Advocates & Defenders (GLAD)
Groton Public Library
Harvard Dental School of Medicine
Harvard Distance Education Program
Harvard Graduate School of Education
Harvard University Extension School
Harvard Summer School
Independent Curators International
Landmark College
Longyear Museum
Massachusetts Eye & Ear Infirmary
Massachusetts Historical Society
Northeast ALS Consortium
Public Library of Brookline
Sturgis Library
Tuck School of Business at Dartmouth College
Worcester Talking Book Library
Are we speaking your language?
If you think we sound like a good fit we'd love to hear from you. Drop us a line so we can learn more about your project.
Get in Touch